Welcome to the Total Annihilation Zero website, the new home of Total Annihilation Zero, previously known as TA: Excess II. On this site you'll find all the latest news, media, and information about the TA Zero project. We've already set up a lot of content including screenshots, previews, FAQs, and unit guides but there's a lot more to come in the future. We'll also be posting regular news updates detailing the development progress of the mod.
Not only are we launching the website today, we're also releasing the long-delayed Alpha 3 release of TA Zero, which has now accumulated a gigantic changelog of 224 entries. Here's a sampling of what's new:






– Tier 1 naval units for all factions have been added.
– Two normal units have been added: the Arm Hammer artillery turret and GoK Domina support hovercraft.
– Explosion animations have been completely recreated and further enhanced by the addition of "giblets".
– Useful interface enhancements have been added, such as minimap range rings for all turrets.
– Massive balance adjustments have been made across the board.
– Numerous technical fixes have been implemented.
– xpoy's new ddraw.dll file has been included, bringing important enhancements and fixes.
– The +ai and +control # cheats have been enabled for skirmish, allowing you to control the AI players.
– And much more! Read about all 224 changes on the Version History page.






Don't forget to visit the official Alpha 3 discussion thread.
That's not all! There's also a new map called Scramble. It was actually created quite a while ago but we decided to release it when the website launched. It's an unusual map because the the only way to get your Commander off of your starting island is by aerial transport. Needless to say, the AI will have a lot of trouble with this map due to the fact that it doesn't use transports.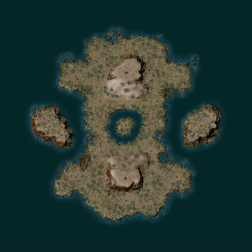 Head on over to the Maps section to download Scramble.
Have questions or comments? Feel free to leave a comment here or visit the forum.